As a final stage of  R&D works on developing methodologies for Unmanned Aerial Systems in the distribution networks technical state assessment we've developed an web-based application for drone based data management.
DRONonLine was designed to assist mapping jobs and complex inspection processes. It supports variety of file types and formats enabling in-depth analysis of collected material. The application consist of modules that allow storing, analysing and result data publishing.
Thanks to its features, the application aids process of drone based data survey:
Project planning,

Mission scheduling,

Field work monitoring ,

Data analysis,

Products delivery.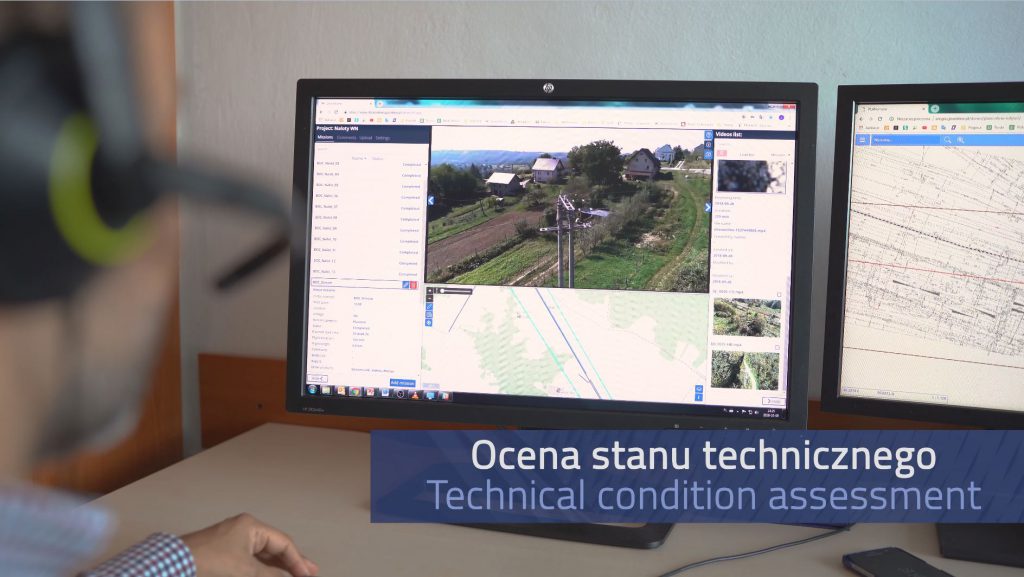 The application supports vector layers and raster map data such as orthomosaics and DTMs. Map component allows viewing the layers, overlaying and performing measurements. Dedicated modules allow photos and videos viewing, attachments allow uploading miscellaneous reports, documentation or any other data needed for the analysis.  In order to visualise 3D data, an online viewer has been implemented as well. Apart from that, the platform enables LIVE video feed broadcasting from the working unit.
DRONonLine's Faults component enables defects to be pointed  catalogued and marked on a map, making it especially useful when dealing with distribution network. Thanks to the dedicated environment and components tailored to the inspection work, it organizes the work, making it systematized, more efficient and in accordance with rules and regulations.
A developed Admin panel allows supervisor to share the project and assign privileges to everyone involved. That makes it useful and for staged processes demanding many specialists involved in the inspection processes and unifying the whole process of results delivery.
All that features make the application useful in land surveying and many industry branches such as power supply, water supply, public administration and environmental protection.
To get some more information visit our product's page or simple create an trial account and give it a whirl at drononline.gisonline.pl !