Lack or incomplete information of your resources generates both maintenance and hazard prevention asset management problems. Data viewing with possibility of faults/ dangerous places marking with capability of geotagging specific place often solves a problem of completing and organizing all the necessary information about your infrastructure.
DRONonLine covers not only that !
You are also able to import your own orthomosaics and vector based layers ! Map based measurements, 3D model viewing, LIVE broadcasting are just few of many features that can be facilitated while performing inspections.
What are other advantages ?
You work on the most up-to-date dataset and are able to measure and also and indicate Points of interest, make comments and share whole project with terrain crews that with all the details have complete information to perform their tasks and record what's been done directly in the app. Application's modularity allows to keep and manage miscellaneous projects. Simple photo-video documentation, faults inspections, survey works, LIVE broadcasting can be successfully maintained and shared with contractors and all interested. With that possibility everyone is working on the same dataset and able to contribute to the project.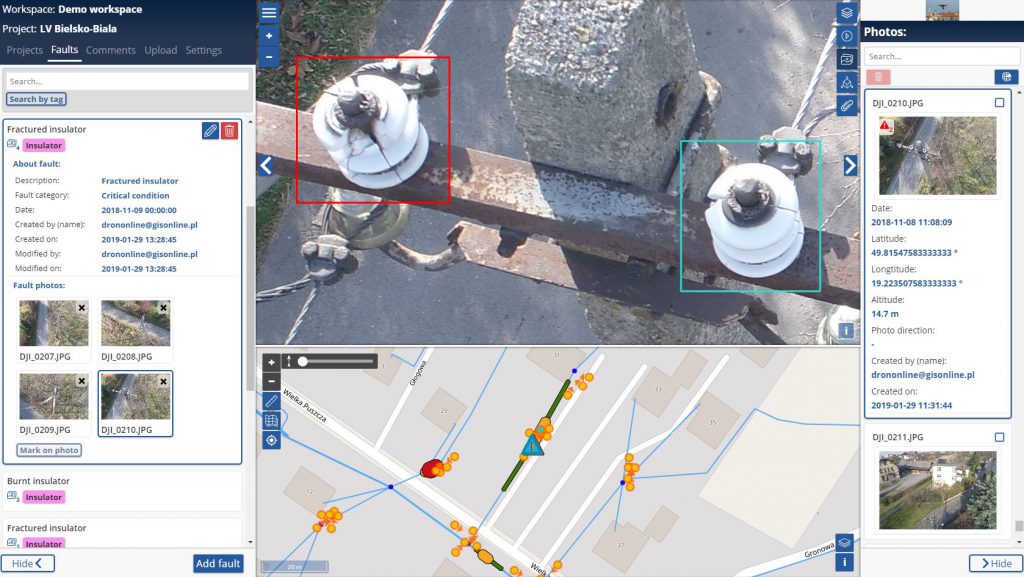 What's the application workflow ?
Create a mission. Specify spatial extent of a mission, put some comments, details of a survey, what's the purpose, products and deadline. After creating a demand, if flight is to be executed by external company, project can be shared with a pilot, with all that information he's able to prepare and plan a mission.
After completing the flight, all of the materials can be uploaded: raw photos and videos, shapefiles, processed orthomosaics, DTMs,3D models and attachments.
With that broad variety of data, many analysis can be performed. Let's say you want to perform large scale roof inspection. You can not only use raw images but RGB and thermal orthomosaics as well. The application allows you to overlay them and toggle, you can mark faults on images from different angles  so complete information about the fracture or crackling is gathered. All the thermal bridges will be easily detectable on thermal orthomosac. They can also bo marked and commented on the map. That spatial aspect gives possibility of easy task allocation for roofers. They'll have complete information of the issue and will be able to counteract quickly.
Work status can be monitored and updated after each stage so all interested are kept in a loop.
Do you want to find it out how it's capabilities can contribute to your everyday efforts ? Create a FREE trial account and test it for yourself!