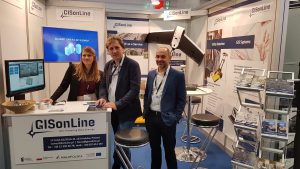 Intergeo 2018 behind us already.  It were 3 days (October 16-18) full of talks, meetings and inspiration.
Our 5-people representation answered visitors questions and presented  tools we use in our projects- for example drone Birdie and Georadar by Leica,  about which Artur Pleśniarski knows everything, we guess.
We are  also proud  of Łukasz Pieczonka  speech who talked during the presentation about the DRONonLine-our solution for the problem of difficult access to the data collected during the inspections with unmanned air vehicles.  You can find more information about our application HERE.
Our system PLANonLine was also in the was in the center of attention. PLANonLine suppors wide access to spatial data on every stage of investment. You can learn more about the system HERE.
Also, our stand was visited by representatives of the Geoforum portal and you can read what they wrote on their site HERE.
We are glad that we took part in this important industry event.